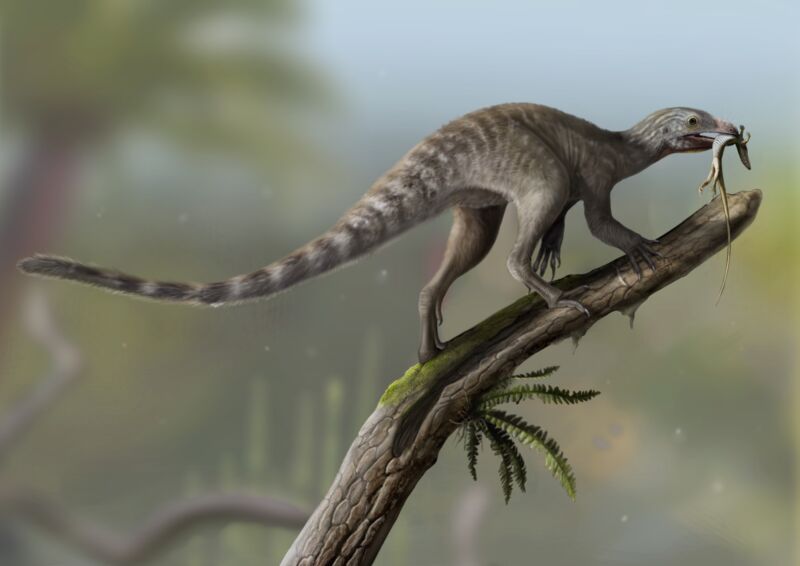 It was relatively small compared to the giants that would follow it later in Earth's history. With a hip height of approximately 0.3 meters (about a foot) and a length of perhaps a meter (roughly three feet), this ancient reptile existed long before the evolution of the pterosaurs most of us recognize.
Its most striking features are its skull and hands, two body parts that rarely survive fossilization among similar animals this old. The skull consists of a raptorial-like beak without teeth, while its forelimbs end in long fingers with scimitar-like claws. These two surprising features are among many revelations in a paper published Wednesday in Nature.
Venetoraptor gassenae is the name of this new species of lagerpetid, a type of pterosaur precursor that lived about 230 million years ago in Brazil. Named for the district of Vale Vêneto in the same municipality in which the fossil was found—and for the plundering it might have done with its beak and claws ("raptor" is Latin for "plunderer")—it is also named to honor Valserina Maria Bulegon Gassen. Although not a paleontologist herself, the authors note that she is "one of the main people responsible for the CAPPA/UFSM" (the Centro de Apoio à Pesquisa Paleontológica da Quarta Colônia, Universidade Federal de Santa Maria), a paleontological research support center).
Read 20 remaining paragraphs | Comments